BU's C4V energized by renewables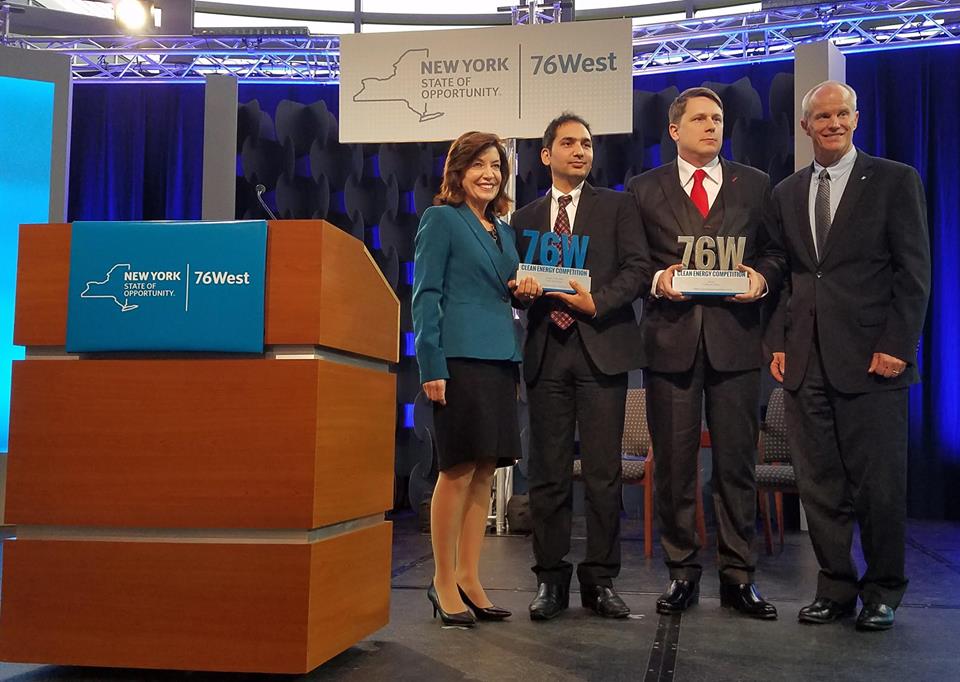 A three-year-old startup based out of Binghamton University is out of the beginning stages and in what founder Shailesh Upreti calls a "mature stage." So mature, in fact, that it recently won $500,000 after taking second place in the 2016 76West Clean Energy Competition.Formally incorporated in 2014, Charge CCCV LLC, or C4V, has patented and refined methods of storing renewable energy and a method of extending the life of lithium ion batteries.
[My] passion is [to] take new technology from concept stage to a mature stage where it can be commonplace," Upreti said. Upreti arrived at BU 10 years ago from India to complete his post-doctorate work along with Stanley Whittingham, a distinguished professor in chemistry and materials science and engineering at the university. Whittingham helped advise Upreti and co-founder Mark Mecenas in developing C4V The developing stages of C4V began in 2010, with the company filing for its first patent in 2012. Upreti and his team have been developing two core technologies that can be used in future generations of electric cars and utilize solar power, wind power or any place energy is stored.
Upreti said C4V has two large contracts, is working with four local companies and have also licensed technology to a few companies."Our primary goal has been, from day one, to set up an entire manufacturing ecosystem in New York, basically in this Southern Tier Region," Upreti said.And the company is in the process of scaling up the technology, with the hopes of bringing it to a global level. So, being named one of six winning companies in the 76West Clean Energy Competition will help with this.
Of the 175 applicants for the competition, 24 were chosen as semifinalists. Six of those semifinalists were chosen as finalists, each winning between $250,000 and $1 million.According to the competition's website, the competition is helping to advance New York's initiative to have 50 percent of electricity come from renewable energy sources by 2030C, under Governor Cuomo's Clean Energy Standard.
"That itself is going to be a big market for companies like us," Upreti said of the effort. C4V took away $500,000 — as well as a trophy that above Upreti's desk in his office inside BU's new Center of Excellence — which will be used toward the company's scale-up process. Upreti said this may include increasing production and product range, hiring new staff members, and involving more local companies.
With customers also overseas and in California, Upreti hopes to continue to further expand C4V's reach.And he finds BU to be the perfect place to do so.The university setting has given students the opportunity to see a start-up grow. Graduate student Tingting Zhang, a major in material science in engineering, began with the company as an intern in October, assisting with experiments. Zhang said that the company is perfect for her because it "blends chemical with engineer together." She was offered a professional position with the company and plans to continue on with the company professionally after she graduates in May.
"If my office is somewhere in [a] non-university area, it [would be] very difficult to find the right talent," Upreti said. "You need a team. You need people working in a group solving problems. No one can solve problems alone."